EasyJTAG 2nd Gen Box
We proudly present our new hardware interface EasyJTAG Plus.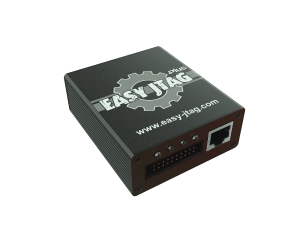 Current production stage : Private Beta testing.
You can fill beta tester request form here:
Main benefits of new hardware is:
Updated CPU AT SAM3X8E vs LPC1768 in old box.

Updated FPGA SPARTAN6 vs SPARTAN3 in old box

Updated Power Logic – Full Digital PWM with ADC control.

MicroUSB Connector if additional power required.

VCC and VCCQ overload protection.

Updated host interface: USB 2.0 Device/Mini Host: 480 Mbps

Integrated ISP engine: Z3X High Power Pro Engine

ISP Support 1 and 4 bit connection now

Added eMMC 8 bit high speed interface up to 48Mhz

Integrated NAND engine: NFC with 4 Kbyte RAM buffer and ECC

Integrated M-PHY interface.

Integrated SPI/I2C engine: up to 65 MHz for HSMCI and SPI clock lines

Integrated Self Test Core that exclude 90% faults in production.

Integrated CCID Card Reader for Z3X Software Use
What you get with new hardware :
Box to Host PC speed increase up to 35MB/sec

JTAG Interface speed increase 20%

eMMC ISP Speed increase up to 4MB/sec

eMMC 8 Bit Speed up to 26MB/sec

Compatibility with 99.9 host PC systems and OSes

Compatibility with old Easy JTAG G1 ISP adapters ( 1bit )

Adapter-less ISP ( all stuff inside the box )

Compatibility with all market popular eMMC sockets ( 8 bit )

True Plug and Play for modern Windows OS ( 8, 8.1 , 10 )

Full Support for legacy OS like Windows XP
What included with box :
Easy JTAG Plus Box ( Metal Edition )

Z3X Certified universal eMMC socket.

Z3X Smart Card with EasyJTAG Activation

JTAG Pin 20 Standard Cable.

ISP Soldering connector 1bit.

ISP Soldering connector 4bit.

JTAG Soldering connector.

20P to 20P Adapter for E type – eMMC Sockets.

20P to 20P Adapter for U type – eMMC Sockets.

Free access to our file support servers.